Instagram has over 1 billion monthly active users, and it's declared as a well-loved social media outlet (for comparison, the population of the US is over 325 million…!). Having a more substantial Instagram following can mean more sales for your business, more views on your blog, and a stronger community for your brand. But how in the world do some people have thousands of Instagram followers? (Psst, this incredible tool helped me bring my Instagram to the next level.) Today, I've got 11 actionable tips to help you grow your Instagram followers.
Liking pictures of your niche
There was an online conference where Susan Petersen (CEO of Freshly Picked) talked about how she grew her Instagram to have almost 400,000 followers. (Right now she has over 800,000!) She said that in the early days, she would spend hours liking other people's photos each night. Her suggestion? Go through and like 5-10 photos on someone's account. It would also help to leave a genuine comment and give them a follow. It helps to get your name out there and allows other users to discover you. I'd also suggest doing this primarily to users in your niche. How do you find users in your niche? Check hashtags, or view the followers of your favorite Instagrammers. Overall, be authentic and not spammy — ain't nobody got time for spam.
Create a unique theme for your photos
Cool, so if you followed #1, people will naturally start to notice your username and may check out your account. Give them something to fall in love with! I've found that it helps to create a theme for your Instagram. Write down a few words that you want people to associate with your account. For mine, I hope people glean that it's bright, artistic, and full of love. Which words would you use for your account? Once you've settled on a theme, try your hardest to stick to it! There are a lot of tools like Canva, Stensil, and Snappa available that can help you in creating a theme quickly.
Socialize more
Responding to the comments you receive and leaving comments of your own on others' work helps in making a good relationship with the followers. Rather than something stale like, "cute dress," try to leave genuine comments and questions that encourage them to post more photos. This way you can show your presence to your followers as well attract new too.
In case if you don't get enough time to comment on other peoples post, you can try our tool Insta Captain. It offers a fully customized auto commenting feature that can comment and respond on your behalf.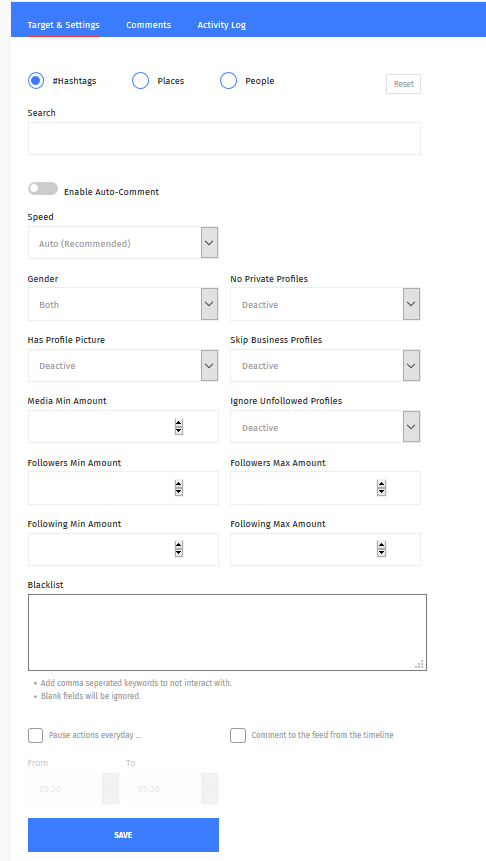 The process is pretty simple; you need to make an account and follow the steps given below carefully. The auto comment feature of Insta Captain allows you to target audiences of your niche. You can filter them by the number of followers.
Select the accounts with minimum followers and maximum followings. Let suppose if you're looking for profiles with 10K followers and less than 100 followings. These kind of accounts are great with engaging audiences.
After that, you need to select gender. If your audiences are gender-specific, you can choose one; otherwise, you can select both too. (Also, you can skip private profiles with no profiles pictures or business profiles using a filter)
Now you need to click on the "comment" button, and that's it.
Create a hashtag and encourage others to use it, too.
It is a great way to build community and gain new content for your account. First of all, create a unique hashtag (make sure it's not already being used!) and ask others to use it. It works best if the hashtag has a specific purpose. For example, A Beautiful Mess encourages followers to use #ABMLifeIsColorful on all of their colorful, happy photos. Once people start using your hashtag (and YOU use it, too!), then you can repost images from your followers (giving them proper credit, of course!). Not only does this build community by showing your followers that you appreciate their photos, but it also gives you content for your account.
Try running some contests
If you have something you'd like to give away, try running a game. Some ideas? Have users repost a specific image and tag you in the caption. Ask them to follow you. Or invite them to use your hashtag on their pictures. You could even try a loop giveaway if you want to collaborate with other Instagrammers.
Use Instagram Stories
Believe it or not, Instagram Stories are rapidly growing in popularity, to over 400 million daily users. Many users even report they love watching Stories more than the endless "scroll" of their feed. Get creative with your Stories. Take your followers behind the scenes and show them the most exciting parts of your day. Ask questions. Use polls, quirky GIFs, and music. Play with filters and Boomerangs. It is a fantastic way to start getting comfortable on video and connect with your followers in an even more profound way.
Encourage your followers to take action.
As simple as it may sound, people are more likely to do something if you ask them to do it. Are you sharing a quote? Ask them to "like" your photo if they agree with it! Sharing something funny or relatable? Ask your followers to tag a friend! Ask open-ended questions! If you put the idea out there, it will encourage your followers to act accordingly.
Always add the location of your photos
Posting a photo of that cool restaurant or city you recently visited? Geotag it! That way, other people who used the same geotag can see your picture and potentially follow you since you now have so much in common (like that french toast you both had last weekend). In case you're confused, geotagging your photos means you tag it with a location.
Figuring out your audience's preference
Do a little research, yo. Go back through your photos and see which ones got the most likes and comments — and of course, the least. What clicks with your audience and why? How can you incorporate more photos like that into your feed?
Connecting your Instagram Account with other platforms
If you have a blog, Twitter, or Facebook, then you might assume your people are already following you on every platform. Hint: they probably aren't! Share a quick tweet or Facebook post, encouraging them to follow you on Instagram…it will reel in more followers than you think. This will help your followers on other networks discover your Instagram account — and proceed to follow you there, too!
Go for collaborations
Think outside the box! Ask another Instagrammer in your niche if you can "take over their account" for the day as a guest contributor. Instagram Story takeovers are a blast and can dramatically grow your following fast. Or start an Instagram challenge with daily prompts. Ultimately, think of fun, creative ways to collaborate with other users.
Even you can use our tool Insta Captain's auto DM features to send texts directly to the influencers working on same niches. You can filter peoples with hashtags, places, and interests.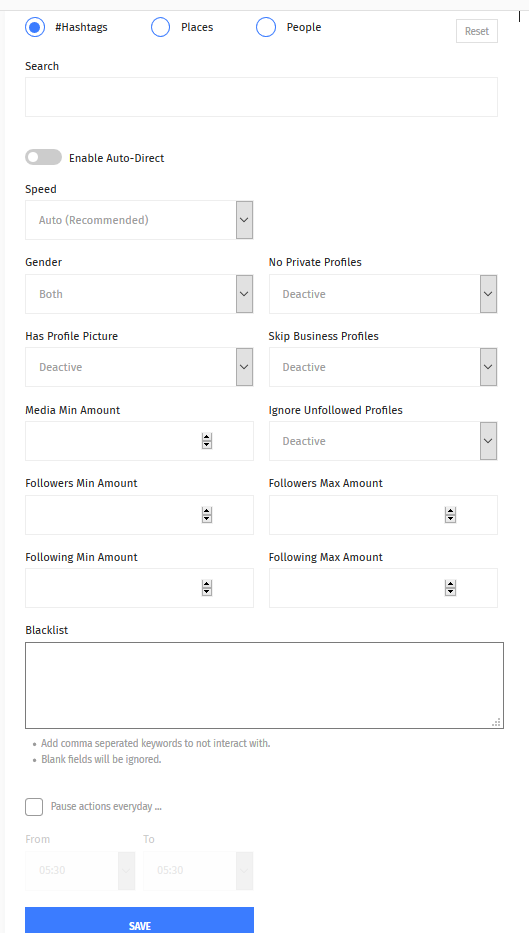 The process is pretty simple. Just type the hashtags of your niche. After that, set the status to active and save it. Now you've to click on the "Messages" button and here you need to type the message you want to share with the users. That's it. Now whenever someone uses those hashtags, your message will be sent to their Instagram account directly.